The quiz stand was introduced to the game with the Oktoberfest Event. You can find it by the Event Board on every ranch!
You have three opportunities to choose questions about Horse Haven, horses, or the ranch locations. If you guess correctly, you'll get an awesome prize - if you get it wrong, Amy will still offer you a small consolation prize.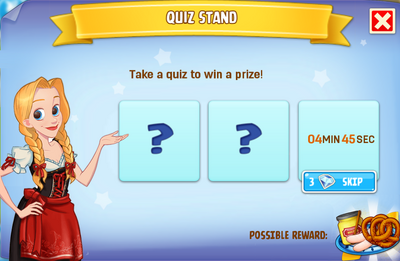 Prizes can go anywhere from 1 emerald, to 5 diamonds! Play as much as you can to collect rewards.
Ad blocker interference detected!
Wikia is a free-to-use site that makes money from advertising. We have a modified experience for viewers using ad blockers

Wikia is not accessible if you've made further modifications. Remove the custom ad blocker rule(s) and the page will load as expected.