Description
Edit
Beside the Mine in the German Village , you can open a Mini-Mine to produce coins, diamonds, or jewels. Unlike the Mine, you don't need to drag tools to begin your exploration – just click the shovel icon and wait! But just like the Mine, you can only earn one type of currency each time you dig, though there are several possible rewards. It all depends on luck.
The Mini-Mine is only available starting at Player Level 23.
And one more thing: Although the Mini-Mine can only be opened or upgraded by spending diamonds, when you use the Mini-Mine, there's a chance of earning diamonds too!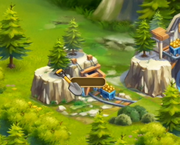 Level
Player Available Level
Production Time
Possible Outcome
1
23
10 Hours
1000 
1 
2
25
9 Hours
1600 
1 
1 
3
28
8 Hours
2400 
1 
1 
1 
4
31
7 Hours
3200 
1 
1 
1 
1 
5
34
6 Hours
4000 
1 
1 
1 
1 
Ad blocker interference detected!
Wikia is a free-to-use site that makes money from advertising. We have a modified experience for viewers using ad blockers

Wikia is not accessible if you've made further modifications. Remove the custom ad blocker rule(s) and the page will load as expected.