Description
Breeding is an important part of the game which allows players to obtain new and (if you're in luck!) better horses. To start breeding, players must first unlock the breed house at level 5, then select two adult horses of opposite genders. Starting the breeding process requires coins, with the amount varying based on the horses being bred.
There are 3 possible foal results from breeding. The likelihood of getting a certain foal is based on the percentages shown. But the player can also spend diamonds to increase the possibility of getting a specific outcome. 
Note that the pink area on the breeding wheel does not always mean a foal of higher tier or rarity. For pure breeding, the pink area suggests a foal of higher tier; while for cross breeding, the pink area stands for a new bread, different from its parents. 
Let's look at an example, if you breed two Tier 2 Rocky Mountains, the pink area indicates a Tier 3 Rocky Mountain. However, when you breed a Tier 3 Rocky Mountain with a Tier 3 Merens, the pink area stands for a Tier 1 Quarter foal, a different breed from its parents, but of lower rarity. 
Finally, the new foal must be placed into a an empty stable and the player must wait until the breeding process is complete. This can take a few hours depending on the parent breeds. Players may also speed up the process by asking friends for help or by spending diamonds.
Players may also visit a friend's farm and and breed with one of their horses.
Breeding Constellation Horses
Introduced to the game in Version 2.7.0, the Constellation Horses have some special features in terms of breeding. 
If you want to get a Constellation Horse through breeding, you need to bear in mind that for each Constellation Horse, only one unique combination of common horses may bring you the chance to get one. This combination varies with whichever zodiac sign that the Constellation Horse stands for.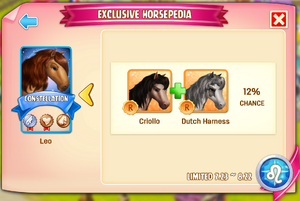 During a zodiac sign period, an exclusive Horsepedia page in the game will show you the unique match that offers you chance to breed your Constellation Horse of the month. 
When you get the right match of horses to the breeding house, a zodiac symbol will let you know that it's the right combination. 
Remember, the Constellation Horses can't be bred with other common horses. And Constellation horses of different zodiac signs can't be bred together, either. Only Constellation Horses of the same zodiac sign can be put to gather to win a chance to get a new one with higher tier, also of the same zodiac sign. For example, two Leo Horses can breed together, but you can't breed a Leo Horse with a Virgo Horse.
Breeding Matches of Constellation Horses
Check here: Constellation Horse Event
Purebred
Players can mate horses of the same breed together to upgrade their Tier.
Example: In the chart below, a Tier 1 Quarter Horse can breed with another Tier 1 Quarter Horse to produce a Tier 2 Quarter Horse. Two Tier 2 Quarter Horses can then breed together to produce a Tier 3 Quarter Horse, which has better skills and increased in rarity level from Special to Rare.
Breed

Quarter (Tier 1)

Quarter (Tier 1)

Quarter (Tier 1)

Quarter (Tier 2)

Quarter (Tier 1)

Quarter (Tier 3)

Result

Quarter (Tier 2)

Quarter (Tier 2)

Quarter (Tier 2)
Note: 
1. For a specific horse breed, horses of higher tier may be of the same rarity level as horses of lower tier.
For example, the Tier 1 and Tier 2 Quarters are both special breeds. Also, for American Indians, the Tier 2 horse and Tier 3 are of the same rarity: rare, which means it's impossible for you to get an elite American Indian through breeding pureblood horses. 
You're strongly recommended to check the Horses page and click on each horse breed to check the top possible rarity for each breed. 
However, when you are breeding horses from Tier 1 to Tier 3, the rarity of the horse will be improved at least once. Still, the best rarity available varies with the horse breed. 
2. When you breed two horses of lower Tier but the same breed, whether you can get a horse of higher Tier depends on luck. But once you successfully born a horse of higher Tier, this horse of higher tier but the same horse breed is guaranteed to obtain skills of higher rank, compared with the lower tier. 
3. The eye color of horses have no direct link with the rarity or the tier of the horses – it's random. But for horses of certain breed and tier, fur color is fixed. 
Recommended Combination for Crossbred
Horses of different breeds can also be bred together to create a third and different breed.
Note: If you want to breed a certain type of horse , you're strongly recommended to visit the wiki page for each breed and check the complete breeding recipe for your expected breed.
---